Women's Self Defense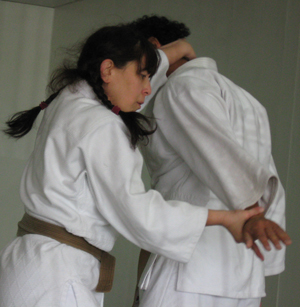 The goal of the Women's Self Defense program is to provide realistic self-defense options to women, regardless of their level of physical conditioning. Students at all levels of ability, age, experience, and strength will be provided with techniques and information that can be effectively used from the first day of training. The program does not require previous martial arts experience or athletic ability. We will provide students with the knowledge to make an educated decision about personal defense.
Along with learning self-defense techniques and tactics, you will learn how to keep your body healthy through mobility exercises and gain additional strength and conditioning. We are here to give you the tools and information to gain confidence in yourself and make your own choices for your safety.
Benefits of Aikido of Escondido's Women's Self Defense Program:
Improve Functional Fitness
Learn Natural Body Movement
Reduce Injuries
Increase Flexibility & Strength
Prevent Assault
To be notified when our next Women's Self Defense Program will be held at the dojo in Escondido, please use the form in the sidebar to the right to get on our mailing list and check the class schedule often. If you have a women's group or would otherwise like to gather a group of women together to have your own class, please contact us to check availability and pricing.