The Dojo
Kaizenshinkan, the Dojo's name, translates to "continual improvement minded". "Kaizen" is "continual improvement" and "shin" is "mind". Dojo means "training hall", so Aikido of Escondido is "The Continual Improvement Minded Training Hall". Founded in 1999 by Sensei Kevin Kelleher, Kaizenshinkan Dojo has served hundreds of adults and children helping them to become more confident, disciplined and both physically and mentally fit.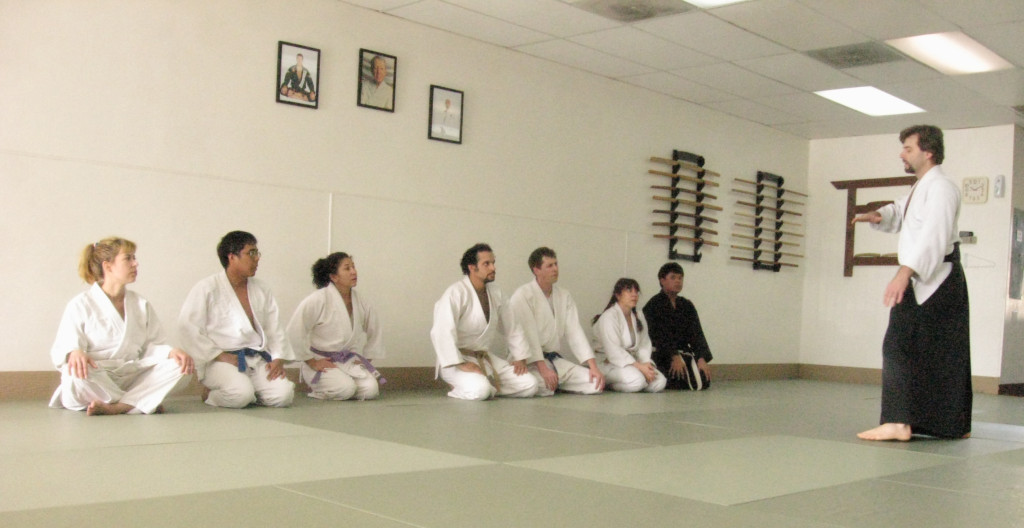 Conveniently located in the Felicita Village Shopping Center in Escondido, the dojo is just minutes from I-15 providing training for students from Escondido, San Marcos, Vista, Poway, Valley Center and other areas in North County San Diego. Email us if you'd like to come observe a class or take your first class for free.
Learn more about the Senseis (teachers)
Learn more about the Art of Aikido
See terms used in Aikido training
(if you are already an Aikido of Escondido student/member, you can use this page to test yourself!)
Give Aikido a try with a no-cost, no-obligation free class!
Click here to submit your request. See Class Schedule here.
Remove all jewelry before practice. It can be dangerous to yourself and others.
Do not chew gum, eat food/candy or drink in the practice area.
Keep your toenails and fingernails trimmed properly.
Keep your gi (uniform) and body clean, as well as your mind.
Do not leave your gi at the dojo; take it home and wash it or air it out.
If watching a class and at all times, move and talk quietly so as not to disturb a class in session.
Volunteer your services to keep the dojo clean. If you see something that needs cleaning, simply do it.
If you can not, tell someone who can.
Respect the dojo (practice area), its instructors and fellow students; they make your training possible.
Treat others as you wish to be treated.
Zori (sandals) must be worn to and from the mat.
A customary bow as you enter the training hall and before you leave is required.
Finally, safety is the first priority of the dojo. All rules are meant to keep the students from getting injured and contribute to their success in the art of Aikido.