Blog posts here.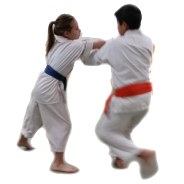 Now more than ever, there is a need for children to practice martial arts. With the increased consumption of processed/sugar laden foods, hours of screen time and uptick in homework, children are in greater need of physical and mental balance. Here is a list of just some of the benefits derived from martial arts training: Discipline and Self-Discipline As can often happen today, children can become accustomed to getting what they want when they want it. In martial arts, children learn discipline through the rules, exercises and techniques that are taught. Over time this turns into self-discipline and the good habits that go along with it. Respect Sometimes nowadays it can be difficult for children to respect authority figures. Martial arts teaches children to respect their instructors and the other children they work with as they learn. This will then carry over to additional respect for others outside the dojo (training hall). Goal Setting The martial arts ranking system is setup to help teach children to set goals, persevere and to then achieve them. The student's progress and effort is recognized publicly by their belt ranking. Confidence As a child becomes more proficient in the martial arts, their confidence and self-esteem gets a huge boost. Not only will the child feel better about themselves, it will carry over to other aspects of their lives outside the dojo. Listening Skills Listening is a very important skill that is developed in the martial arts. A child must be able to listen in both one-on-one and group settings. Developing good listening skills allows the child to pick up the important details the instructor is providing. Being Active Martial arts encourage children to be more active, gain strength and cardiovascular fitness. It also helps with mind-body connection, hand-eye coordination and strategy development. Gender Equality Sometimes martial arts is more associated with boys but more and more often girls are training and achieving in the dojo. Martial arts tends to be one of the few "sports" activities that girls and boys can play together. At Aikido of Escondido, the ratios of girls to boys changes year to year but it tends to average 50-50 and some years the girls outnumber the boys. Girls are often among the more technically proficient and also take on leadership roles at a higher rate. Individual Achievement While there is much to be gained in team sports, sometimes the chance for individual achievement can be minimal. Sometimes the child can end up sitting on the bench or not used to their fullest potential. In martial arts training, all the children get equal "playing time". In addition, they can shine on their own during their belt tests. Also, there is no season in martial arts training so it can be done year round. Conflict Resolution Sometimes people believe that martial arts training promotes violence but it actually teaches children nonviolent conflict resolution skills. The focus is on finding a peaceful resolution and especially in this day and age physical altercations must be avoided. Teamwork Martial arts is most often practiced in pairs as new skills are learned and old skills refined. This teaches the children to work together for their mutual benefit. Aikido of Escondido provides martial arts training for children and adults as well as fitness training for 15...
read more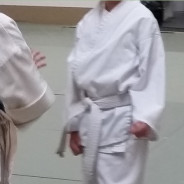 When the kids shout "Ki-Ai!" during practices, we see big smiles and a look of pride on the faces of the observing family members. When the child gets a technique right, it's such a special moment. But just as exciting as the student mastering the techniques and movements of the art of Aikido are the words we hear time and time again saying how "much calmer", "more respectful", "better listener", "more self confident" that the children have become. At Aikido of Escondido, we take great care to ensure that the foundation of the martial arts form, way of harmony, is carried through and imparted to each one of the 4-to-15-year-old kids that bow in at the dojo entrance. Yes, of course, we want the student to excel at the technique. But we also find it such a joy when the beginner student remembers to first say, "Hai!" when addressed by their Sensei. There is just so something special about that little 5-year-old boy who went from unruly to unbelievably well-behaved in just a few months. They are starting to learn the "way of harmony" at a young age… and it will carry through to their adult years… and maybe even be passed down to their own children. Are you ready for your child to be on a great path of self development? Check our class enrollment page to see if openings are available. If so, please contact us or stop by the dojo to get started. If not, we do have a waiting list, so let us know you're interested and we can contact you as soon as a membership opening comes...
read more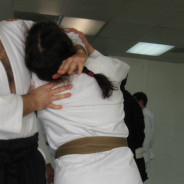 It's a nice fall evening in North County San Diego. You worked a long day and you are tired. You just got off work, sat in traffic while you watched the sun set and finally got to the grocery store to pick up dinner. The parking lot is pretty full so you have to park further away from the entrance than you typically like. After shopping, checking out and grabbing your grocery bags, with keys in hand you leave the store and notice that it seems that the lighting is quite dim and the parking lot has cleared out quite a bit. You coax your tired legs to move as you begin the longer than usual walk to your car. And then you hear the quiet footsteps behind you… and they are getting nearer… Are you confident that you would be able to defend yourself if the person walking behind you had ill intentions and attacked you? Would you be afraid? Or would you, having just achieved your next belt rank in Aikido, know exactly how to prevent the attack, make it to your car safely and have a crazy story to tell the family when you got home? Self defense equals self confidence. Your Aikido training will have you walking through that parking lot with no doubt that you would be able to take care of yourself. We're not just talking to the ladies… although we have found that it is women who are drawn to the idea of being able to defend themselves since it is typically women who are preyed upon. But that doesn't leave out you men. Imagine being confident in your ability to protect not just yourself but your loved ones should a they be attacked or victimized. Get your Aikido on at Aikido of...
read more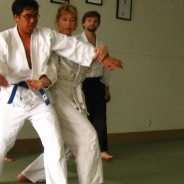 I'm too small. I'm too big. I'm too young. I'm too old. Too short… too tall… out of shape… overweight… not strong enough… Many have the misconception that they have to be or look a certain way in order to take Aikido martial arts training. The REAL tall and short of it is this… Aikido is for all ages, all sizes, all fitness levels, all "weight classes", men, women and children. Because Aikido does not rely on directly confronting strength with strength but rather emphasizes skilled maneuvering, it enables a small person to effectively control a large person. A 60-year-old woman can control a 20-year-old man; a less strong or lightweight person can control a stronger, heavier opponent. Through the precise use of leverage, inertia, gravity, timing and the action of centrifugal and centripetal forces,  it is ultimately the energy of the attack itself which brings down the attacker. The physical skills of Aikido include entering, blocking or avoidance movements, followed by throws or holds. The system works because each person's power is optimally utilized to lead the opponent in circles. The opponent essentially throws himself. Increased stamina, flexibility, reaction timing and muscle development occur naturally as a result of Aikido training, but the techniques themselves do not depend on strength for effectiveness; Aikido can be practiced by men and women of all ages and physical ability. So, now what's holding you back? Request a free class or stop by the dojo during a class to...
read more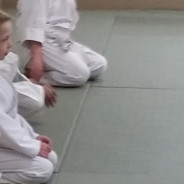 Kids crave structure and discipline… well, we all do to some degree, don't we? At Aikido of Escondido Martial Arts Dojo, yes, we teach children and adults the art of Aikido, but inherently in the practice of it comes self confidence, self discipline, self development and self control. Whether you are a child or adult student, the rules create a safe environment for all to train and contribute to your overall success in the art of Aikido. As you read the Dojo Etiquette, General Dojo Rules and Formal Class Procedures detailed later in this post, you'll start seeing the respect that we have for each of our students, the respect we have for the dojo training facility and the art of Aikido and the responsibility we feel to provide the best possible experience to each and every person who we have the honor of training. Please feel free to stop by and observe a class to get the full "Aikido Experience". (See Class Schedule) You might even decide to start training yourself and the rest of your family…. DOJO ETIQUETTE Etiquette is not simply tradition; it is part of your practice. Observe it respectfully. Bow when entering and leaving the Dojo. Remove your shoes and place them neatly in the designated area. Wear your Zori (sandals) from the changing area to the mat. Line them up on the right side of the entry pointing out. Address the instructor as "Sensei; this is Japanese for teacher. Be on the mat and ready to go at least 5 minutes before the scheduled start of class. If you are late for class, change quickly, bow upon entering the practice area, then sit quietly off to the side in the seiza position until your instructor gives you permission to join the class. Bow to your instructor when called upon to assist in demonstrating a technique; bow again and sit when done. Bow when the instructor has finished demonstrating and has directed the class to practice. Your fellow students, like you, are striving to learn. Please cooperate and learn from each other. When your instructor claps, sit down again in neat lines. Should your instructor advice you on a technique during practice, thank him and bow. If you need to leave the practice area for any reason, bow and thank your partner and then ask your instructor's permission to be excused. Do not talk while your instructor is lecturing or demonstrating. Bow when changing partners during class. At the end of class, bow to everyone in class, especially those with whom you practiced. Proper observance of etiquette is as much a part of your training as is learning techniques. Preserve common-sense standards of decency and respect at all times. GENERAL DOJO RULES Remove all jewelry before practice. It can be dangerous to yourself and others. Do not chew gum, eat food/candy or drink in the practice area. Keep your toenails and fingernails trimmed properly. Keep your gi (uniform) and body clean, as well as your mind. Do not leave your gi at the dojo; take it home and wash it or air it out. If watching a class and at all times, move and talk quietly so as not to disturb a class in session. Volunteer your services to keep the dojo clean. If you see something that needs...
read more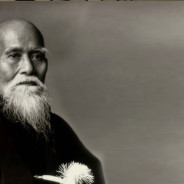 Aikido is a powerful, graceful art founded early in the 20th century by Morihei Ueshiba. It was Ueshiba O'Sensei's conception to find a peaceful way to resolve conflict unlike traditional Japanese martial arts which put victory at all cost as priority. O'Sensei conceived of "a way of harmony" which is the foundation and very meaning of "Aikido". O'Sensei's idea of promoting harmonious interaction among members of society became Aikido which is now practiced by so many worldwide. Aikido philosophy is to avoid harming others whenever possible. Although Aikido is primarily a self defense art, it was founded on the philosophy of being in harmony with your attackers rather than being in conflict with them. The ideal of Aikido is not to think of overpowering and defeating an opponent, but to harmonize with them both spiritually and physically. Aikido techniques express elements of philosophy, psychology, and physics. As techniques and movements are learned, at the same time, minds are trained, health is improved and self confidence is developed. Through the physical practice of the self-defense techniques, the Aikido student comes to appreciate and understand the mental and spiritual aspects of Aikido.  See the documentary video about the life of Ueshiba...
read more